"Rocket" The Faithful Girl

* 11-18-2013
† 09-06-2022
Rocket was the puppy we picked from our 2013 Essex & Ranger litter. Born as the last puppy of the litter, she swept us off our feet immediately. She turned out to be all that we had hoped for. Rocket was a very talented, balanced Golden and it had been a wonderful experience working with such a special girl.
Rocket was named after the Saybrook Breakwater Lighthouse, which we could see from our home, located at the mouth of the Connecticut River near the town of Old Saybrook. Like her mother, Rocket was born to retrieve. Therefore, she was quick and had an excellent nose. In addition, she was an exceptional marking dog as well as a team player, who always wanted to please.
In summer 2015, Rocket earned her AKC Junior Hunter title, passing four tests in a row continuing with four Senior hunt test passes within two weekends in the consecutive year. Rocket run and passed her first Master test in August 2017 earning her title in October the same year, which was a huge accomplishment. In fall 2017, she won the Southern Berkshire GRC Qualifying Stake Field Trial. In February 2018, we went to Jacksonville, FL and Rocket received her qualification for the 2018 Master Amateur Invitational.
In May 2018, we went to Sedalia, MO to participate in the second Master Amateur Invitational. This was our first Master National event, and I had no idea what to expect. From the Saturday night opening party to the final awards ceremony the 2018 Master Amateur Invitational was exciting, challenging, exhausting, and most of all, fun! Rocket passed all six of her tests in Flight B and is now 2018 MAI Finisher.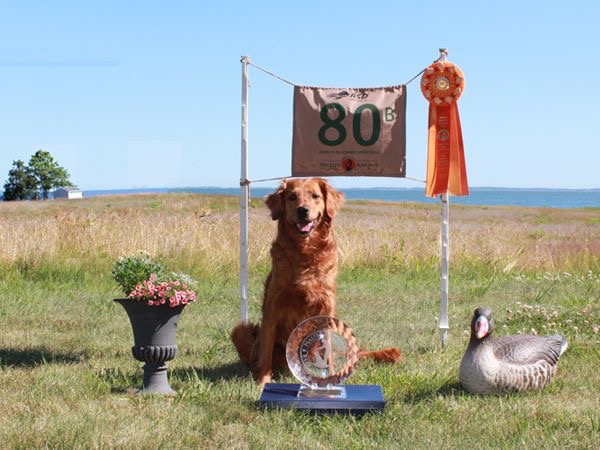 In June of 2018, we bred Rocket to the very talented, young Golden Retriever Adirondac Tracks in the Wilderness "Tracker". We were very excited to raise another litter of field/hunting puppies born on August 08, 2018.
Unfortunately, Rocket developed a Mast Cell Tumor on her right front paw which was the beginning of an 18-month long journey before we decided to send her over the Rainbow Bridge. Learn more about Rocket's medical condition.