HR Old Lyme's Amiable Chester SH WCX
The little Charmer
Chester is our first male dog. Like Mystic, we kept him from our 2010 litter. From the moment of his birth, he has presented himself as a "smooth" little guy. Chester is very drawn to people; he is easy to handle with a particularly strong Will To Please. In the field, he is very fast, ambitious and charges with full force.
The crucial factor that made us say "yes" to this little, gentle boy, was again the puppy test. However, during the eight weeks of raising our pups, it became clear that this brown marked, beautiful little puppy had other great characteristics, too that made him a good Golden Retriever.
In the first weeks of his life "Mr. Brown" was very careful. Later on, he was kind of a leader and initiator among his littermates in the learning of both useful and not so useful things.
An examable of this would be: At the age of ten weeks, Chester spontaneously decided, "Ok. Mom is standing at the other side of the small stream. So, I am just going to jump over with a racing dive." (Even though it's dangerous.) At the same time, Chester relaxes in the Mall, lays on his backs, limbs streched out, and enjoys being petted by everyone.
Today, Chester is a self-confident, serene male Golden Retriever, who becomes very excited to participate in activities with "his people". Like our other Goldens, he is eager to learn the US game of retrieving. In addition, he also likes our daily walks with the whole pack.
Chester earned his Senior Hunter title in 2015 with six consecutive passes. In 2017, we started run him in Master tests and we hope to finish his title in 2018.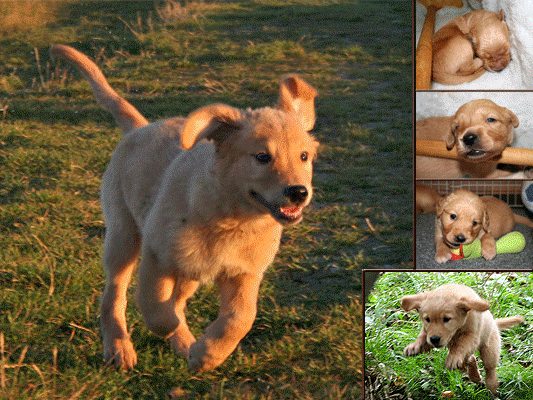 His gentleness and his amazing, natural ability to retrieve confirm that we made the right decision: Chester belongs with us and has enriched our family.