News Archives
We started to participate in AKC and HRC hunt tests and earned with Essex our first title: AKC Junior Hunter.
The Year 2012 Draws to an End
We experienced a year full of exciting events and adventures with our canine friends. Now, we look forward to new, challenging ventures in 2013.
We would like to wish all of our readers peaceful holidays and a good start into the New Year.
We received Essex' DNA test result (OPTIGEN): Genotype for GR_PRA1 is "Normal/Clear".
Essex had her annual eye exam today. Both eyes are "Clear" related to genetic eye diseases.
at Markover Game Preserve. Essex did an excellent job as "pick up dog".
She retrieved a total of 15 pheasants and about 20 pigeons. We had an interesting and exciting day. The whole event was a great experience for both of us.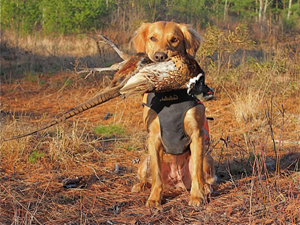 Essex and Chester attended the Shoreline Retriever Club's Sanctioned Field Trial in Nod Brook, CT.