Madame Perky

*  07-20-2010

In the summer of 2010, we had our first litter which included our puppy, Mystic, and for the first time, we experienced how puppies grow from birth. It was incredibly exciting to experience how, at this very young age, different charcteristics showed up. Mystic, also known as "Ms Orange", was kind of brisk and cheeky from the very beginning. She has kept her carefree cheerfulness that looks to be incredibly similar to Belana's lovely temperament.
Mystic was named after the quaint village of Mystic, CT, located close to our then residence in Old Lyme, CT. We were inspired by the historic core "Olde Mistick Village", where we were visitors very frequently.
After completing the voluntary puppy test for our seven-week-old puppies in 2010, we knew for sure Mystic should stay with us. The key factors that influenced our decision were: Mystic's great instinct to follow, her excellent manner to retrieve with a lot of tail action, and her reasonable self-reliance. All of these traits were apparent during the first weeks of her life and were confirmed in the puppy test.
Since then, Mystic has become an animated, bright, perky, and self-confident girl. Karsten and "his" Mystic make the "perfect combination". It is a lot of fun to watch Karsten and his "little bee" in training towards our goal of having reliably working retrievers.
Mystic passed her first Junior hunt test in spring 2013 and received her Junior Hunter title in the fall of 2015 after raising our third litter that same year.
In late summer of 2016, we started to run Mystic in Senior hunt tests. She was very reliable in her performance and earned her Senior Hunter title with four legs in a row.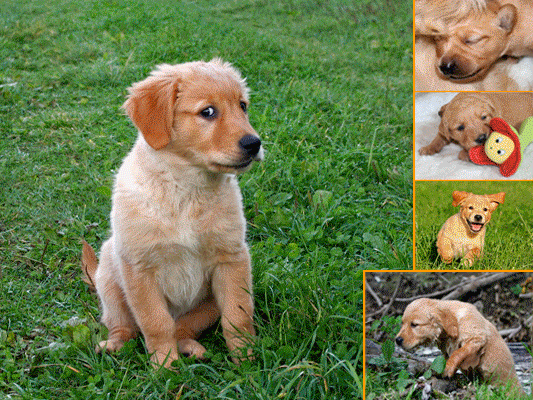 Mystic raised eight puppies in the summer of 2015 from which we kept Fenwick as a new addition to the Old Lyme's Golden Retrievers family.